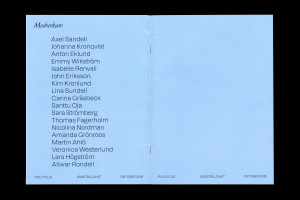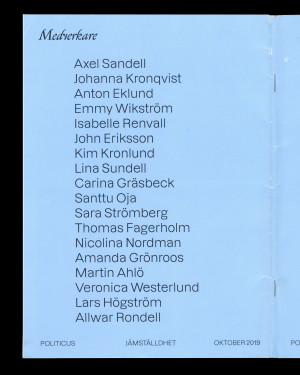 Politicus Jämställdhet
Lars was asked by the editor in chief of Politicus to design their newest issue with the theme equality. The annual student organization magazine Politicus has traditionally had a complete makeover each year, with a new layout and often new editorial team.
The studio teamed up with their favourite illustrator Santtu Oja to create a visually interesting issue. Together they created a visual palette of abstract 3D rendered illustrative elements and shapes to make the magazine really pop. The illustrations fit in so nicely that they became a part of the whole redesign and they were later used in everything – from posters to social media content.
Client: Politicus
Year completed: 2019
Category: Print, Digital, Motion
PUBLISHER
Statsvetenskapliga klubben vid Åbo Akademi r.f.
ART DIRECTION & DESIGN
Studio Lars Högström
EDITORIAL ILLUSTRATOR
Santtu Oja
PHOTOGRAPHY
Amanda Grönroos
WRITERS
Axel Sandell, Johanna Kronqvist, Anton Eklund, Emmy Wikström, Isabelle Renvall, John Eriksson, Kim Kronlund, Lina Sundell, Carina Gräsbeck, Sara Strömberg, Thomas FagerholmNicolina NordmanMartin AhlöVeronica Westerlund, Lars Högström